Written by Barbara Walker
Category: Events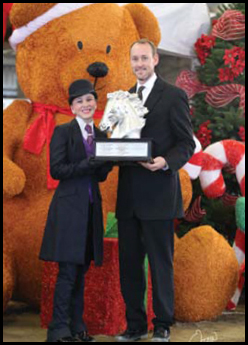 Isabelle Gatti received the Outstanding Junior Exhibitor Award. Each year, on the first weekend in December, it has become a tradition on the Southern West Coast to begin the holiday season with a very special horse show. Jingle Bell has become synonymous with a happy week full of Christmas trees, carolers, great parties in the big white tent next to the arena, fantastic trophies, whimsical decorations, excellent judges and wonderful horses and riders.
The "design team" of this wonderful show consists of two talented individuals who pull out all the stops each year to make sure everyone has a terrific time. Lance Bennett and Scott Hickey are the epitome of what every show management team ought to be. They are incredibly professional, but always with a terrific tonguein- cheek sense of humor. Each year this show has grown larger. It's difficult to say it's become "better," because it's hard to improve on perfection. But there's always a new twist and a new surprise around every corner.
Torrential rain marred the move-in days. But the rain subsided on opening day. On the first day of the show, everyone had a variety of puddles to avoid, but that didn't have much luck dampening spirits. The show, normally held in the beautiful Del Mar Horse Park outdoor arena, moved to the adjoining big covered arena for the week and didn't miss a beat. Welcome gifts of chocolate peppermint bark helped everyone cope with the raindrops.