A Morgan at the Saddlebred World's Championships: Dawson Archibald Rides to the Win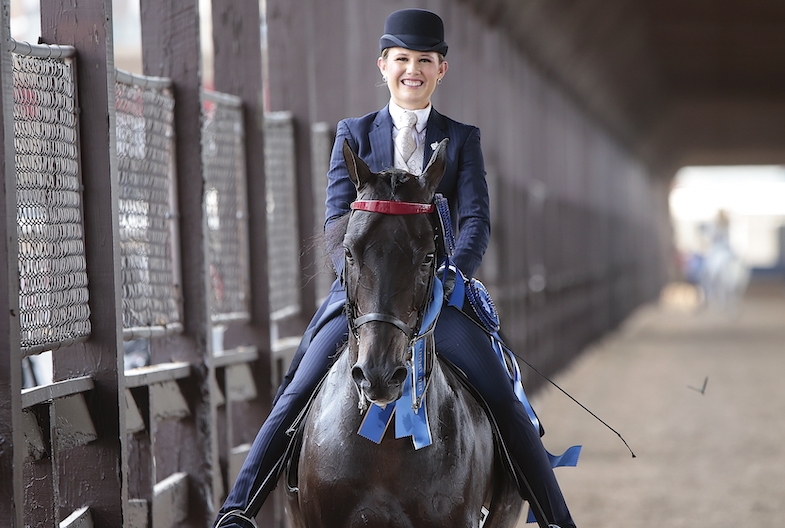 Photo by Julia Shelburne-HittiWhat does an equitation rider do after making history winning the Saddlebred Equitation Triple Crown? If you're Dawson Archibald, the answer is to make history again ­– this time by riding a Morgan horse to an equitation win at the World's Championship Horse Show.
Dawson began her riding career under the direction of Cheryl Manahan in Derby, Kansas, and actually rode Morgan horses before she rode Saddlebreds. While she's enjoyed success with multiple Saddlebred partners in performance this season, when it comes to equitation she's been returning to her roots, teaming with her new Morgan partner, the talented gelding BRMF Lailani's Fireball GCH, or "Boo."
"I was extremely lucky to buy him from Lauren Osborne over the winter to show in equitation," Dawson said. "He has been extremely successful in the pleasure divisions with many different riders, and I am so fortunate to be able to ride him. He's very smart and full of personality. The name Fireball fits him!"
This season, under the direction of Milestone Stables, the pair earned equitation wins at Pro-Am, Chattanooga Charity and Blue Ridge Classic. Then, on Sunday afternoon, Dawson made the unusual move to ride him in the Saddle Seat Equitation 17 Years Old World's Championship at Louisville … and she won.
"Originally the plan was to show my three-gaited horse, Brickhouse, in the 17 Years Old Equitation, but since the three-gaited and equitation fall on the same day, Todd [Miles] thought maybe we could bring Boo last minute," she said.
Dawson said that showing a Morgan on the Green Shavings was a thrill.
"It was a dream come true for me, and something 12-year-old me would have been on Cloud 9 about," she said.
She is extremely grateful to everyone who helped make the dream a reality.
"I can't thank my trainers (Todd, Lesley and Macey Miles) as well as my grandparents enough for making my dreams come true time after time," she said.
She would encourage all of her Saddlebred friends to try riding a Morgan.
"It'll change your life forever," she said.
But Dawson isn't forgetting about her Saddlebred partners. She also enjoyed a World's Championship win with Goodhart's True North in the Junior Exhibitor Three-Gaited Park Div. 1 class, and with her former equitation partner, CH CH-EQ Completely Caveat, in the Junior Exhibitor Country Pleasure 14-17 Div. 2 class.