9 Things You Probably Didn't Know About Epoque Kiss NKF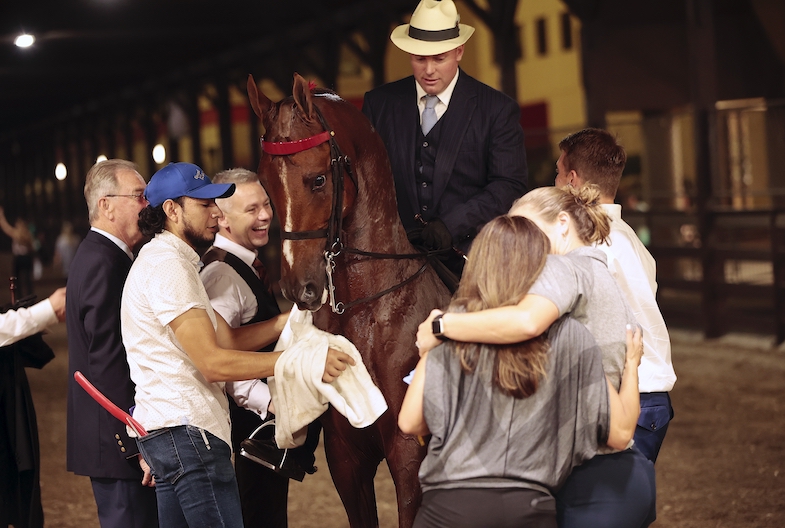 Photo by Julia Shelburne-HittiSince his first show ring appearance at this year's Asheville Saddlebred Classic, the show horse world has been abuzz about Epoque Kiss NKF, and that buzz only got louder after he won the Five-Gaited Stallion Stake at the World's Championship Horse Show on Monday night.
With trainer and owner Burt Honaker aboard, the 5-year-old stallion by Callaway's Northern Kiss and out of VHF Belle Epoque won in a class stacked with talent, including two other horses by Northern Kiss: Honorable Kiss and Noble Braveheart, who took second and third respectively.
But while spectators can see his epic talent, there is a lot more to the stallion known as "Henry" than his show ring performances would indicate. Here are nine things you probably didn't know about him.
He was the product of a long-time friendship.
Burt had been friends with fellow trainer Robert Gardiner for years, and had always loved Robert's three-gaited mare, VHF Belle Epoque.
"So when he started breeding her, I said, 'I want to breed that mare to Northern Kiss one day,'" Burt said. "He got a colt and I got a colt. Robert wanted the first one to foal and we took the one to foal later, which was Henry. That's kind of how he came to be – through friendship."
He had a rough start in life.
"I'd waited forever to get something out of that mare," Burt said of Belle Epoque. "I had the recipient mare up in a stall in my arena. I was working a horse and looked over and noticed she was in a sweat ... I put the horse I was working away, came back and she was laying down having him."
However, something didn't look right.
"It looked like she was having a little trouble, so I went in to help her get him out, and he was pretty much dead," Burt said. "He was limp as a noodle. I started clearing fluid out of his nose and started giving him CPR. We got the vet there, but he was still pretty lifeless. She gave him plasma, and milked the mare and tubed him. For five days that colt never stood. We would have to pick him up and hold him up so he could nurse."
The vet had given him a 50/50 chance of making it. But then things started to look up.
"After about five days he got to where he could stand on his own," Burt said. "After seven days he was starting to feel better. But he almost didn't make it right out of the gate."
Burt knew he was special early on.
"As soon as he started feeling good and we turned him out, he had a presence I'd never seen," Burt said. "He would always stick out among the others."
Burt had already decided that if he got a colt out of Belle Epoque he wasn't castrating it until he saw its quality ... and he knew right away that he was definitely not castrating Henry.
He's a goofball.
On the ground, Henry is basically a big kid.
"He's got more personality than any horse I've ever been around in my life," Burt said. "I've never seen a horse like him. It's just like he knows he's something. You can throw a ball and he'll go get it for you and bring it back to you like a dog."
His favorite toys are road cones and Jolly Balls, but he'll play with anything.

"He used to tear his mats up, so I cut a big piece of mat up for him and he swings that mat around," Burt said.
He's exciting, every single ride.
"I can't wait to get on him every time I get on him, whether I'm showing him at Louisville or riding him at home," Burt said. "But the other night I would say it was probably the greatest moment of my life. It's like he knows there's a big stage and he wants to perform. He was tight and he was nervous, but even when he's tight and nervous he's still the best horse you'll ever ride."
Hoof trouble kept him out of the ring last year.
"He's had some really bad feet, and we had trouble keeping shoes on him," Burt said. "Because of that we didn't really get him off the farm much."
Before winning on Monday night, he had only been off the farm five times, and the Five-Gaited Stallion Stake was just his third show ring performance. He also showed and won at Asheville and Cleveland Tri-State Charity.
He's a natural.
"When I gaited him, he was racking in three days with his head down," Burt said. "It's almost like he's a horse trained by somebody else and reincarnated."
He's also very sensitive.
"If he even thinks he's in trouble for something he sulks," Burt said.
Burt worries about him 24/7.
"I already talked to a camera place about putting a camera in his stall when we get home, because he's always getting into something," Burt said.
The most challenging part of training Henry is finding the balance between treating him like any other horse, and also knowing the ways in which you can't.
"You just try to take the best care of him you can," Burt said. "But it definitely keeps you up at night figuring out how to try to do best by him."
For the first time in his training career, Burt feels a little bit of pressure.
"I wouldn't say I get nervous, but he's such a great horse that I want everybody to see it so bad," Burt said. "I love him so much and he's such a special horse I want everybody else to love him as much as I do. That sometimes causes a little bit of anxiety. That's something different with him that I haven't ever experienced. And I've had some nice horses, but he's just a whole different animal."