A Close To Perfect Junior Three-Gaited Star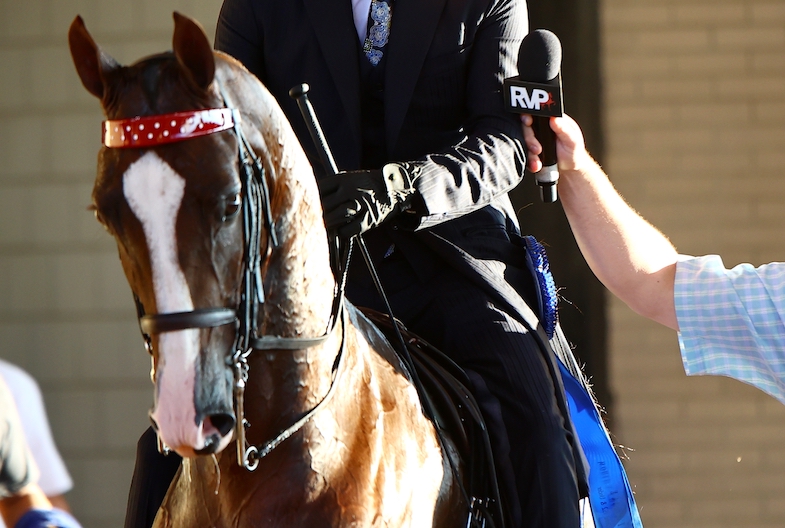 Photo by Julia Shelburne-HittiFreedom Hall workouts are the stuff of legends, and the crowd at the World's Championship Horse Show got to witness firsthand one of these extraordinary moments in the Junior Three-Gaited 15.2 & Under class Monday night when the exciting young mare, HS Close Enough To Perfect, rose to the top of a two-horse workout for the win.
Shown to the honors by trainer Tré Lee, HS Close Enough To Perfect, or "Bella," is owned by Alex Rudder. Alex is a student at the University of Kentucky, and it was while she was completing virtual coursework during the worst of the pandemic that she decided she wanted a young prospect horse to work herself. When she visited Andre van Schalkwyk's Lead Way Farm, it was with the intention of looking at some yearlings, but Andre had another idea.
"He asked if I'd be interested in a 2-year-old. I said, 'Why not!'" Alex said. "He took her a couple of laps in the jog cart and I fell in love with her."
Alex purchased the mare, by Undulata's Nutcracker and out of HS Daydream's Dream Girl, from Scott Hagan in January of 2021. After months of being the perfect project horse for Alex, Bella made her show ring debut this June at Midwest Charity in the Junior Three-Gaited class, topping a large and quality field in what would be her only show ring appearance before Freedom Hall.
"After her exciting debut at Midwest, I couldn't wait to see her on the green shavings," Alex said. "I knew she would be even better and stronger."
When the time finally came on Monday night, it was in a stacked class with a very excited crowd. Two horses rose to the top of the field: Bella and last year's Three-Year-Old Three-Gaited World's Champion, Hallelujah Moment and Peter Cowart.
After the class lined up, the judges sent both horses back to the rail for a two-horse workout, amidst deafening cheers from the crowd.
"It was so exciting for the crowd to be able to watch two incredible horses compete for the title," Alex said. "It's something I will never forget."
Neither is the moment that Bella was named as the Junior Three-Gaited 15.2 & Under World's Champion.
"After bringing her here last year and working her myself, hearing her name called out as the winner was extra special," Alex said.
Alex believes there's something extra special, too, about Bella.
"There's just something about her that not many horses have," Alex said. "She makes it look so effortless."
She is thankful for the Prospect Lane team for making her journey with Bella possible.
"I can't thank Tré and Emily [Lee] enough for all of the hard work they have put into this mare and for letting me be a part of the process," Alex said.