Written by Allie Layos
Category: Profiles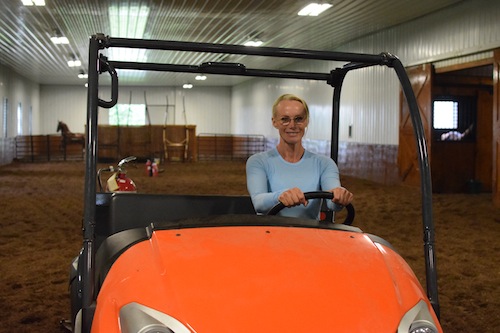 Elisabeth spends lots of time in the Kubota at Visser Stables, dragging the ring between horses.When I arrived at Visser Stables that Wednesday afternoon to meet Elisabeth Goth, I was surprised to find her at the wheel of an orange Kubota RTV 500, dragging the indoor. I'm not sure where I expected her to be – socializing with other customers on the sidelines? Giving orders from the doorway? – but this wasn't even close to what I had envisioned.
"Hop on," she invited me. "We can talk while I drag."
She stepped out to let me aboard, and when she did, I saw that she was wearing three-quarter length workout pants. I climbed, mystified, across the seat, settling next to someone's cell phone and an empty coffee mug, and discovered it felt surprisingly natural to be bouncing along in a Kubota beside a woman I'd watched from afar since childhood. But that's Elisabeth; she has no interest in putting on airs. Every ounce of her energy is focused on one solitary goal – being the best horsewoman she possibly can, and doing it all with class.