In The Beginning There Was Van
Ever since I began writing for Saddle & Bridle at 9 years old I had heard that it was a third-generation family business, but really that fact was just a vague idea in my head. I knew little about its history....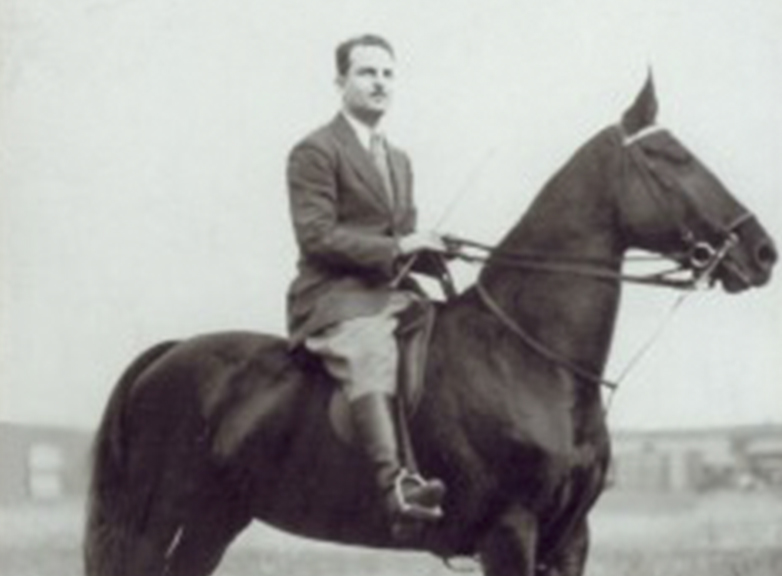 I had no idea it had begun as more of a society-type magazine, or how many different homes the office has had through the years. And, perhaps most surprisingly, I had never heard the name Arthur Van Ronzelen.
But when my lifelong goal of working at Saddle & Bridle full-time became a reality upon graduation last May, another goal of immersing myself in the historic archives was also reached. I had access to them all now, and throughout the past eight months I've begun to learn more and more about Saddle & Bridle's founding, which, being both a horse lover and a lover of history, I find fascinating.
I think current co-publishers Jeff and Chris Thompson are a bit amused by my interest in the magazine's history and my almost reverent treatment of the archives … but I also think they are secretly pleased by it.
As I was researching for this post, I had removed a bound volume from the library and had it opened on my desk to an interview with Arthur Van Ronzelen's wife, Jayne, written for Saddle & Bridle's 75th anniversary celebration.
Chris happened to walk by to talk about something completely unrelated, but he stopped in his tracks when he glanced down and saw the photo of a young Jayne Van Ronzelen. "That's my grandmother," he said, in a surprised (and confused) but pleased way.
"I know," I smiled.
So how did Saddle & Bridle begin? As near as I can tell, this is how it happened.
Van was 28 when he bought a print shop in St. Louis, which, at the time of the purchase, was producing a society sheet, a small publication about the goings on in the city. According to his daughter, Nancy, this was a totally separate publication from Saddle & Bridle, and it wasn't long before he both closed the print shop and discontinued the publication. It was only then that he began Saddle & Bridle.
In the January 2002 issue, which celebrated Saddle & Bridle's 75th anniversary, the article about Van's wife Jayne tells more of the story. Author Joan Gilbert wrote: "As she tells it, a small group of 'playboys' started Saddle & Bridle more as a lark than a serious undertaking and none of them knew much about business or journalism."
But Van at least, must have had more business sense than he knew; though he was discouraged by readers' reluctance to buy ads, he saw a lot of potential in the publication. This vision paid off when he met Saddlebred people. Right away he realized that they understood the value of advertising their barns and their stallions, and he appreciated them for that.
For years the magazine was printed by Mendle Printing Company on Hanley Road, and its pages covered both the horse and social scene in St. Louis before expanding to other areas of the country and, eventually, even beyond.
The offices moved numerous times throughout the years; its originally location was in the brand-new Ambassador Building (now demolished) at the corner of 9th and Locust, but before ending up in its current location on Jackson Avenue, it also called many other places home. In the mid-30s it was located on the second floor of the Chase Hotel, and the mid-1950s found it in the Montclair Apartments building. In later years it moved to a location above the Straubs grocery store on Maryland Avenue, an office building on Clayton Road, and a building in Brentwood.
But it didn't matter where Saddle & Bridle was located; what mattered was that it continued. Even through the Great Depression and a World War, Van kept the magazine going and never missed an issue.
Van owned all the shares until he retired in 1958, when he divided and sold the shares to staffers Melvin M. Peavey and Virginia Powell, who became its second publisher. When Peavey moved to Kentucky to become the owner/publisher of Horse World, Van bought back his shares.
It wasn't long before Van's son-in-law, William Thompson, or Bill, came to work for the magazine in 1963, fresh out of college and full of new ideas. This was during the time when Virginia Powell was co-owner and publisher.
Virginia had begun working for Van in 1933 as a Girl Friday, and was indispensible to the magazine even then. She also became very good friends with Jayne Van Ronzelen, but was a bit of a mystery to many in the show world, as she rarely traveled to shows. However, she loved the magazine dearly, having watched it grow from its humble beginnings to a leading industry publication.
Bill said that she taught him everything he knew about the publishing business – a good thing since it wasn't long before he took over as owner and publisher, buying the shares from Van in 1965.
When Virginia died in 1968, Van bought back her shares and held them until Bill could buy those, too; Bill became the full owner of Saddle & Bridle in 1973.
During the next 19 years Bill accomplished a lot. He continued what was working for the magazine – the Breeder's issue, the Sire Rating, the use of color paper – but he also implemented new ideas, the most influential being the beginning of the Saddle & Bridle Pleasure Equitation Medallion, Hunter Seat Classic finals and the Shatner Western Pleasure division. He expanded coverage to additional breeds, began paying columnists such as Gayle Lampe and Joan Gilbert to write monthly columns, and added book publishing to Saddle & Bridle's repertoire, including items such as Bill Downey's book about Tom Bass, "Show Your Horse" by Bob Robinson, Lampe's iconic, "Riding For Success," and Helen Crabtree's "Hold Your Horses."
The magazine flourished, and by 1992 when he retired and sold it to his sons Jeff and Chris, it was bigger and better than ever. Jeff is now editor and Chris is advertising manager, the title Bill once held.
Saddle & Bridle's history is full of change, as it evolved from a small, local publication to what it is today – a leader in the show horse world, with readers all around the world. But, though it has known much change, the most important things have been ever-present: the relationships on which it's built, the innovation which has brought the magazine this far, and most importantly, an enduring love for the American Saddlebred.