Match Your Mare: Things to consider when selecting a stallion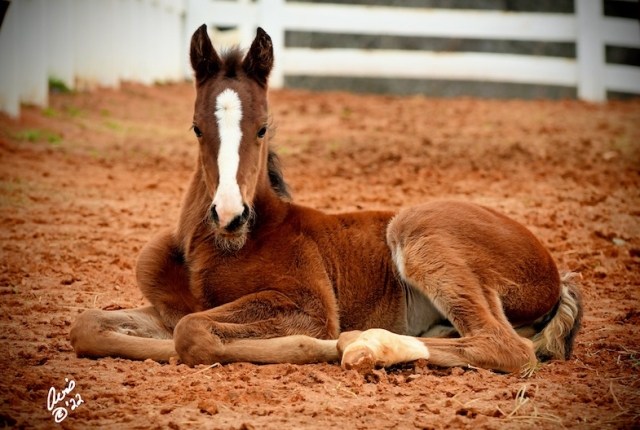 Wing Commander. Supreme Sultan. Edna May's King. These names have kept the Saddlebred community pulsing with excitement – and eager to build these bloodlines into their breeding programs. Wing horses stacked offspring with large bones and impeccable stamina. Sultan lines composed horses with finer lines and finesse. Edna's offspring lit up the gaited world. As we look deeper into the breeding process and selecting the right stallion for your mare, one thing is true: though breeding is often considered a gamble, experts believe that your chances of producing a celebrated World's Champion increase when you focus on weaving together bloodlines that complement each other.
In a way, choosing the path to successfully selecting a stallion for your mare is as artful as painting a picture. For example, Wing Commander lines offer gameness but can prove tough to train. And refined regalness comes from Supreme Sultan bloodlines, but can sometimes lack athleticism. To paint the picture you want, you can use multiple colors; there are infinite ways to make art.
These days, the industry wants to breed horses that are easier to train and ready for an amateur rider at a much younger age than was required 30-40 years ago. Even more? They should boast exquisite quality. Considering all these factors, finding the right stallion for your mare can be … a lot. So, how can you make the right decision? Where do you start?
"I always start with the pedigree," said Christian Svennes of Svennes & Co, a boutique breeding farm in Hopkinsville, Ky., which Christian runs alongside his father, Jeff Svennes. "I look at the horse (or offspring) to see if they are a good representation of their breeding. If so, I like to see a good size, legs, and a nice neck. Not a deal breaker for me, but pretty features are the cherry on top. It is a bonus if the mare has a show record (or offspring shown) and also a history of normal pregnancies."
Svennes & Co. focuses on developing high-quality performance Arabians and Saddlebreds and has bred and presented impeccable offspring, including World's Champion Von Dexter (Sir William Robert x The Party Line FF). The Party Line FF, Christian's (SA) Tornaado mare, passed along her hooky neck and motion for days. According to Christian, the breeding process is all about not reinventing the wheel. And admiration from afar can pay off.
"I remember seeing a picture of a fabulous black colt who was a World's Champion in hand as a weanling years ago," he said. "His name was Sir Clarence Ronald. He was bred by Joellen Fisher Blount [...] Like Dexter, the colt was sired by Sir William Robert and shared the same dam/sire. Sir Clarence Ronald was my inspiration for breeding my mare to Sir William Robert and Dexter proved to me that there is something special about that particular cross."
When narrowing down stallions for your mare, it's crucial to understand areas your mare is lacking, too. Today, breeding experts tend to recognize the importance of the mare's contribution to the foal's genes and some even argue that the mare's characteristics override the stallion's. So, being critical of your breeding stock is important.
"There are always certain traits of a particular mare that I am hoping to improve by selecting a complementing stallion," Christian said. [However] "The beauty of breeding is taking strong sires and strong dams and continuing to push."
Pushing the pedigree's envelope, if you will.
Melinda Moore, renowned trainer and breeder, was named ASHA's 2020 Breeder of the Year and bred the exquisite Arrowhead's Unlike Any Other (Wine Women and Song x Miss Moriarty), Arrowhead's Bateleur (Wine Women and Song x Luna Stella), Arrowhead's Moscato (Arrowhead's Bateleur x Painted Princess) and World's Champion Arrowhead's Dark & Stormy (Rose Arbor Destiny x Night For Stilettos).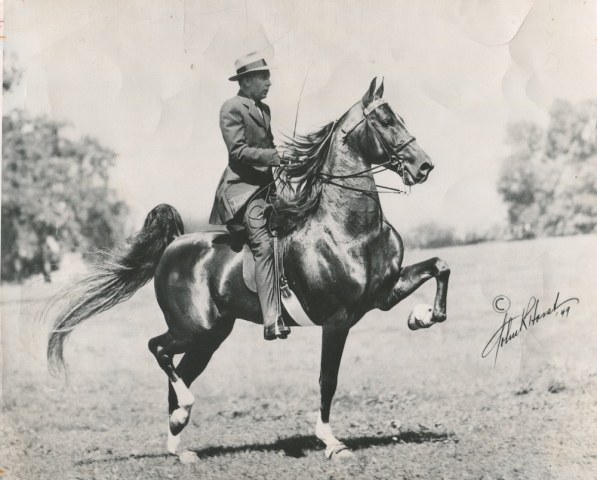 Wing Commander, pictured here with Earl Teater aboard, was known to sire big-boned horses with lots of stamina. // Photo by HorstLike Christian, she agrees that a quality mare is also paramount.
"If you have a top mare, a top stallion is just a giant bonus," Melinda said. "As a mare owner, I'd rather have two top mares than 30 average mares."
If your mare does have flaws, however, find a stallion that can complement those flaws. Study her conformation to find a stallion that enhances where she may be lacking.
When it comes to the stallion himself, there are several other factors that Christian and Melinda consider. Melinda starts out by trying to breed quality to quality, a good temperament, and a willingness to train, and she's had great success with certain lines.
"I'm very partial to the Blue Norther line," she said. "He's a stallion that was bred by Callaway Hills as well as the great CH Caramac. They are wonderful foundation sires. They're in a lot of pedigrees."
However, she believes stallion athleticism and confirmation are vital – even more so than pedigree.
"But that's just my opinion," she said. "[In a stallion] I look for a lot of quality. I look for size. I look at the conformation. Horses with a conformation flaw, whether it be the sire or the dam, tend to pass those flaws along."
As all breeders know, perfection is tough to attain.
"You're still going to breed problems if you breed a perfect horse to a perfect horse," Melinda said. But if the conformation odds are in your favor, all the better.
For Christian, stallion fertility is a big consideration.
"It's so frustrating when you have a nice mare who doesn't settle because the stallion's semen may not be up to par," he said.
He also takes into consideration the stud's progeny, and believes it's a great bonus if the stallion has a show record.
"So you can actually see the way they go," he said.
So, how much should you gamble on a stallion that doesn't have a lot of offspring to tell his story? Or doesn't have a show record? It depends on your preference. For Melinda, the focus isn't on past performances or proof by offspring.
"There are a lot of horses that don't make it to the show ring," she said. "Some horses don't even go into training. [But] If I like the individual stallion, their gameness and go-forward, and conformation …I don't feel like that's much of a gamble at all."
When it comes to personality traits in the stallion you're choosing, the character doesn't have to be a factor if the flair is there.
"I don't worry too much about a stallion's personality himself, but I do take trainability into consideration," Christian said. "I listen closely to what trainers say about their experience working different stallions. I don't shy away from hot or difficult bloodlines as long as the quality and talent are there."
Melinda feels the same about trainability.
"A stallion that fights you every day of the week when you're trying to teach them is very unappealing to me. I just won't fool with it," she said.
Finally, if color is important to you, know the recessive and dominant color traits.
"I like a little color and a little flash," Melinda said. However, quality is still more important. "If you get that chrome, that's a bonus. Is color going to make me like the horse less, though? No. If the horse is good enough, their color doesn't matter in the show ring."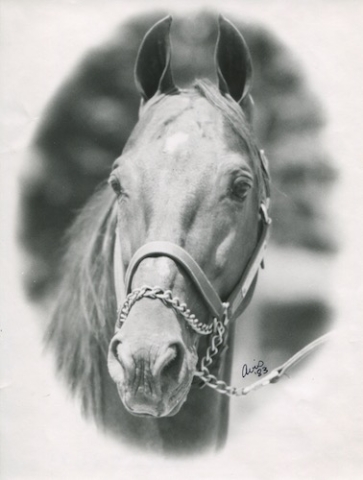 As a sire, Supreme Sultan was known to produce beautiful, refined offspring.According to Christian, it can also be helpful to stick with what you know. If your breeding program produces impeccable three-gaited horses, continue to explore that space. If you're looking to branch out, research bloodlines that produce quality horses in the division in which you want to thrive. Consider: do you want a fine harness horse? A walk-trot showstopper? A gaited powerhouse? Do you have a mare that breeds refined three-gaited horses? Sultan horses are great for harness divisions, for example, while Wing and Edna horses tend to shine in gaited.
"To date, my family has only bred for trotting or three-gaited horses," Christian said. "I have a few mares that could also produce great five-gaited horses. So I will adjust my breeding decisions accordingly."
All of this begs the question: if you're starting a breeding program, where do you begin? Saddle & Bridle's Sire Ratings and the American Saddlebred Horse Association online registry are solid places to start research. Watch videos of stallions and their movement. Research your mare's bloodlines and conformation. What is she lacking? Where does she thrive? Her stallion should be an ideal puzzle piece of her strengths and flaws.
When communicating with breeders, it's imperative to ask the right questions, too. How will the semen be shipped? What is his per-season conception rate with cooled semen (the industry standard is at least 90%)? What kind of mare has he crossed well with in the past? How can I view videos of his previous offspring? If in training, how does he work? Breeders in the Saddlebred community are passionate and intensely devoted to the breed; a majority are excited to pass along the magic, answer the right questions, and make the process worthwhile.
Come the new year, it's fun to flip through all the stallion advertisements, admire their triumphant expressions and arched necks, and read through their accomplishments and breeding. I don't own a broodmare, but imagining the stud I'd choose for my imaginary perfect filly is almost as fun. Whether you're saving clipped stallion ads for later or are actively preparing to breed your mare, the process is rewarding. And though breeding is often considered a gamble, who knows? Someone has to win the lottery.