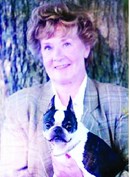 Mae M. Condon, 88, of Lexington passed away Friday, July 28, 2017.
Condon was born May 8, 1929 in Baraboo, Wis., to the late Corwin and Louise M. Guse Cline. She was the widow of John M. Condon.
From 1995-1999 she served as the magazine editor of Hackney World in Lexington. She was an administrative assistant for the American Saddlebred Horse Association from 1985-1994, as well as a stockholder of the America Saddlebred Breeder's Association from 1960-1980. Throughout each of these roles, she introduced many people to American Saddlebreds.
She was also a co-owner and manager of Saddlebred horse farms in Janesville, Wis. and Portage, Wis., and held numerous leadership roles with programs serving the special needs population.
Survivors include her daughters Patricia A. Condon (William R. Wallace) and Kelly J. Condon, grandson Michael Oswall (Angelina Cheney), great grand daughters Zofia and Isabella, sister June Neuman, step granddaughter Jennifer Montgomery Carver and step great grandson Jackson Montgomery.
A funeral service will be Wednesday at 12:30 p.m. at Kerr Brothers on Harrodsburg Road in Lexington, with burial to follow in Cave Hill Cemetery in Louisville, Ky. Visitation will be held at 10:30 a.m. until the hour of service.
In lieu of flowers, memorial contributions can be made to the Scholarship Fund for Young Equestrians on her behalf that will be set up at a later date.