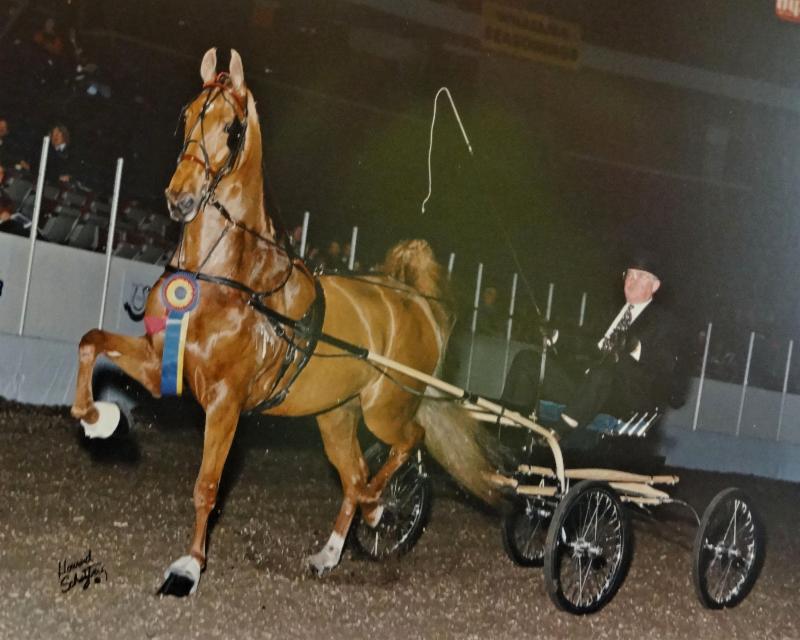 Tom driving one of his favorite horses, Lesley Anne.Trainer, breeder, statesman, Tom Ferrebee did it all. The well-respected horseman passed away peacefully, Wednesday, June 21 at the age of 74.
Early in his career Ferrebee worked for Jack Nevitt at Highview Stables in Ohio and then Dr. Lehman's Hi-Tail Stables in Pennsylvania where he started a horse that became known as world's champion CH Sabur's Stiletto. Back to Ohio he worked at the famed Wakitatina Farm where he developed the 1977 Reserve World's Champion Five-Gaited Stallion Supreme Hi Lite.
Ferrebee will also be remembered for winning the first UPHA Three-Gaited Classic Grand Championship at the American Royal with CH Baron Von Steuben. He then spent time in West Virginia with John Reynolds and Dr. Robert Roberts before opening the Tom Ferrebee Stables in 1980 in Westfield Center, Ohio. From there he trained numerous champions for Mrs. Alan R. Robson and Dr. Bill Clem, among others.
He stood and showed the stallions Supreme Hi Lite and CH Albelarm Supremacy, in addition to training stars like Karissa Hi Lite, Sumac Lady, CH Olympic Flame, CH Holy Fruit Salad, Lesley Anne, Truly Fair, Space Link, CH Albelarm Albelarm High Fidelity, Albelarm Witchcraft and Albelarm Sorcerer.
In 1988, as President of the UPHA, Ferrebee was instrumental in representing the American Saddlebred in Washington DC while meeting with the American Horse Council, Senators as well as Congressmen when the USDA first proposed the use of all pads be discontinued. Tom was a great spokesman and he made a huge impact at those meetings for our breed. His dedication to the show horse and his desire to see the show horse industry thrive never wavered.
He was honored in 1992 with the UPHA Richard E. Lavery Horse Award, inducted into the 1999 UPHA Tom Moore Hall of Fame and he was the 2015 World's Championship Horse Show Hall of Fame inductee.
In lieu of flowers the family has requested that contributions/donations be made to the UPHA Dewey Henderson Benevolent Fund Trust.This entity is a program that was very near and dear to Tom's heart and over the decades has helped many a horsemen in need.