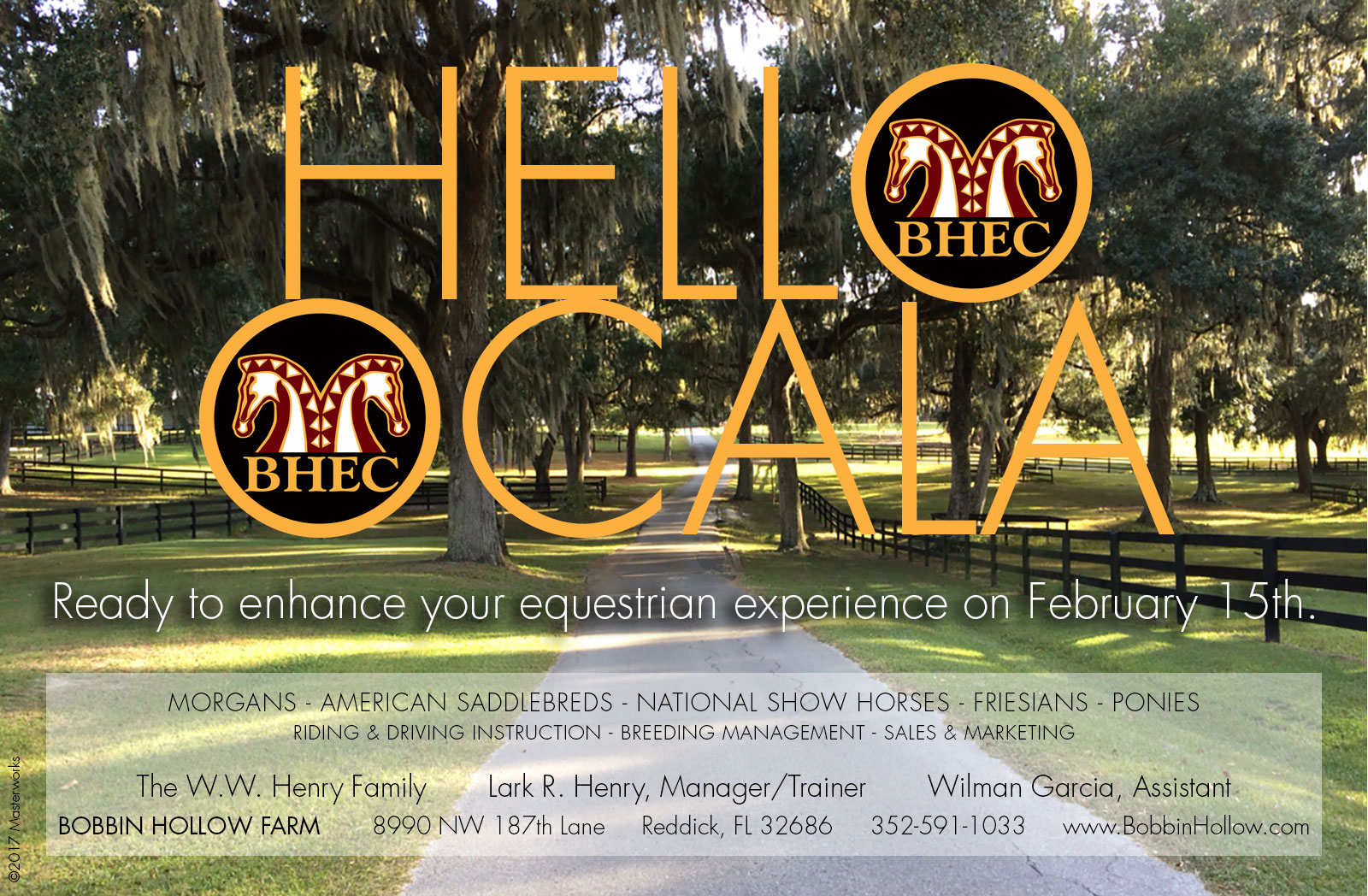 08bc6d94 0c50 46ad b3b7 0159fb29fdf0
Bobbin Hollow Equestrian Center, formerly of Naples, Florida, has relocated to beautiful north central Florida in Ocala, "Horse Capital of the World". With many World Champions to their credit in both American Saddlebreds and Morgan Horses for over 50 years, the BHEC team brings a valuable and vital facet of the horse industry to Ocala that has been missing from its bountiful selection of equine facilities and services.
BHEC's mission is to set the standard for their breeds and to produce champions in all disciplines. The W.W. Henry Family has been providing expert training and instruction for four generations, beginning from their family farm in Amherst, Massachusetts. In 1995, they relocated the business to prosperous Naples, Florida, where they have enjoyed great success and brought many new horse enthusiasts to the industry. Their move to Ocala was inspired by the ability to expand the facility in size and scope, with plans to return the World Champion producing Bobbin Hollow breeding program to a prominent place.
Lark René Henry, daughter of Woodrow and Louise Henry, is the Manager/Trainer at Bobbin Hollow. Lark is recognized for her talent in selecting, developing and training young horses. She enjoys sharing her wealth of experience by working one-on-one with students in and out of the arena, advising them with their goals and planning for the future. Competing on the local, national and world level, Bobbin Hollow riders and drivers are recognized for their high level of skills and savvy ringmanship, which is shown confidently in their many awards and accomplishments. In 2006, Lark received the People's Choice Equitation Instructor of the Year award. In 2014, the United Professional Horsemen's Association recognized her as the UPHA Chapter 16 Horse Person of the Year. She also serves as the Secretary for UPHA Chapter 16 in Florida.
Assisting Lark in the instruction of the BHEC riders is her mother, Louise Orcutt Henry, a lifetime horsewoman who began competing in 3-day evening with her Morgan at an early age, and went on to win national titles in every discipline. She is the daughter of the late Lyman and Ruth Orcutt of Orcland Farms, one of the Morgan breed's most famous and successful dynasties. Louis has the unique ability to structure a lesson program around a rider's personality and skill level and is a favorite instructor for students of all ages.
Many of BHEC's loyal customers and show horses supported the move and are excited about the new location and all that Ocala has to offer. Beginning February 15th, BHEC is welcoming visitors by appointment and scheduling lessons from beginners to advanced. All of their riders experience the joy of horseback riding with an emphasis on learning self-confidence, discipline and patience while making new equine friends. To schedule your visit or lesson, contact Bobbin Hollow at 352-591-1033 or visit www.BobbinHollow.com.