Willowbank Captures Weanling and Yearling Futurity: Interview with Joan Lurie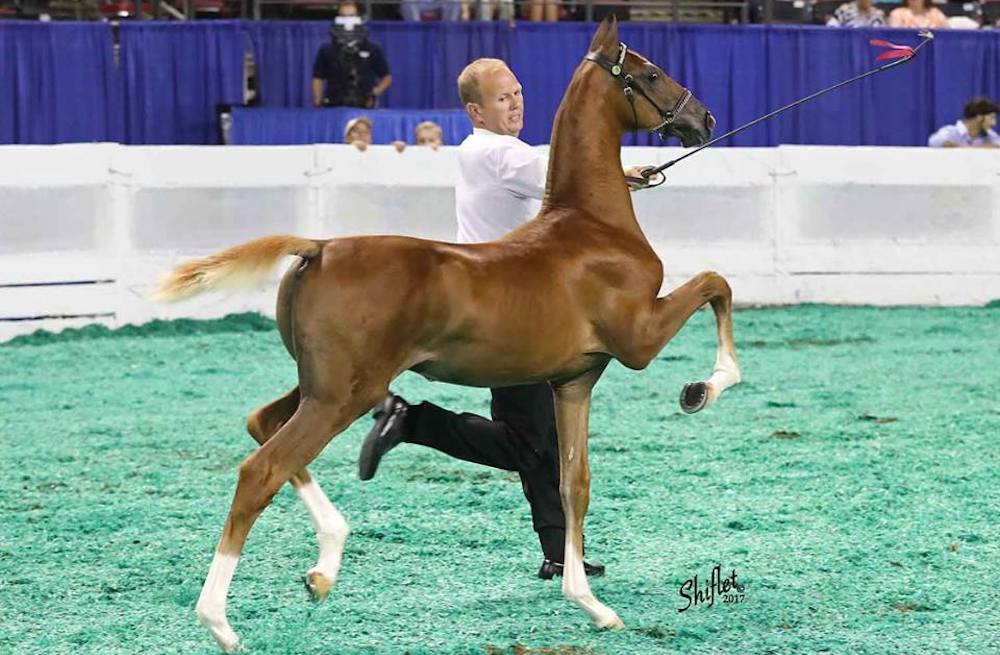 Saturday night at the World's Championship Horse Show was a big one for Willowbank Farm, as they captured both the ASR Weanling Futurity and Yearling Futurity with two of their outstanding colts.
Both colts were by the incredible stallion Undulata's Nutcracker, who stands at Willowbank. Weanling winner, Rogue One, out of Robert's Passion, and owned by Sandra Corney and Willowbank Farm, wowed the audience with his incredible motion. Guitar Murphy, out of Nanette Roulette and owned by Willowbank, displayed beautiful conformation to win the yearling futurity just six classes later.
I sat down with Willowbank owner Joan Lurie to learn more about these two amazing athletes.
Allie Layos: Tell me a little bit about Rogue One.
Joan Lurie: His barn name is Billy. He's really amazing because every day I work him I can't find anything wrong with him. You train horses and you have some you like better than others, and you have some that have great qualities but have issues, but he doesn't have any issues. He doesn't have anything that makes you look at him and think, "I'd like to change that." He's just a very special colt.
AL: Did you have any expectations when you brought him here?
JL: Not really. With babies you never know how they're going to react to the whole situation, and sometimes a very fancy, brave baby at home will come here and get frightened by all of this. And if they get scared and intimidated there's nothing you can do about it. And he's only three months old, so you're dealing with a three-month-old brain.
AL: You mentioned training him. What does that entail?
JL: He has to learn to park out and stand and pose. And then I teach them to lunge. But I don't keep them in the stall all the time, and we only put the shoes on about a week before the show.
AL: Tell me about Guitar Murphy.
JL: We call him Toffee. He is like "Steady Eddie." He's the same every day. He's cheerful. He likes his work. Everything is easy for him; he's very natural. He's just a very pleasant colt.
AL: What was it like for you to watch them both do so well here?
JL: Of course I was tickled to death. I was pleased that they showed well, because you never know.
AL: What do you think it is about them that caught the judges' eyes?
JL: Trot. They either have it or they don't have it.
AL: What's next for them?
JL: The baby [Billy] is home now and he'll get his shoes pulled and go out in the pasture with his mom. Toffee, we'll probably just start his training. We're very, very blessed to have such nice colts. We just try very hard to keep them happy and liking what they do.